Fairy, witch, pirate or butterfly… Kids love to paint their cute little faces for the holiday. Carnivals, birthdays, new year, any celebration is a good occasion for the imagination. These are only cosmetic sets very often contain unwanted substances. To avoid the risk of Allergy, it is necessary to use products with safe ingredients. Even if you use high-quality children cosmetics, makeup child should not become a habit, leave it for holidays or other exceptional cases.
Please refrain to do colorful makeup children up to three years. Do not trust the labels "hypoallergenic" on some labels. This means that the formula was designed to reduce the risk of allergies, and that the tests proved a very low level of sensitivity.
How to apply makeup to children
Apply makeup child on clean and dry skin, but first make sure that whether her small pimples and redness. Never apply cosmetics on damaged skin, if you have wounds or scratches, the product penetrates directly into the skin.
To check if baby has an Allergy to these products, to make the sample at hand, the indentation of the elbow or the back of the head for 24 hours before applying makeup. If redness or irritation, it is not suitable to the baby. In any case, avoid the eye contour and the area with a very thin and sensitive skin. Before applying makeup you can use a small amount of cream or jojoba to protect the skin.
Special attention should be paid to the contour of the lips and around the eyes. Better to buy the shade of the water-based, not fat. They dry faster and are easily washed off, they can be applied by brush, sponge or fingers. At the end of the day, thoroughly wash off the makeup with soap and water, paint residues, remove the sponge and lotion to remove makeup. In conclusion, you can apply on the skin a little moisturizer.
After use, clean the tools up. Warm water and soap, wash your brush and sponge, then thoroughly rinse and dry them. Shadow, pallets and pencils also should be cleaned with a sponge.
Note on the packaging the date when the printed medium and do not use it longer than the allowed period. Tightly sealed makeup tools should be stored in dry and cool place. Throw away makeup if the smell comes from rancidity or mould.
Components of children's cosmetics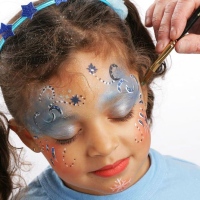 When buying children's cosmetics, should pay attention to components. As with any cosmetic products, most children's sets consists of chemical components that can cause a little trouble, and also serious allergic reactions.
The parabens with longer chain propyl, butyl, isopropyl and isobutylparaben. They are known as endocrine disruptors, it is about the hormonal system, and even in small numbers they cause a number of side effects. It should be noted that isopropyl and isobutylparaben are prohibited components.
Allergens. Some are allergic to fragrances must be indicated on the label if their concentration exceeds 10 mg/kg. Even if these substances do not cause skin reactions, it is better to avoid formulas with their content. In constant contact with the allergens, the skin subsequently becomes sensitive.
Phenoxyethanol is often used in cosmetics. Its concentration should not exceed 1% (or 10 g/kg) and in cosmetic products intended for children under 3 years, to 0.4%. If the percentage concentration is not specified on the packaging, for security purposes, purchase products, which do not contain Phenoxyethanol.
Methylisothiazolinone – a preservative that recently widely used as a substitute for parabens. This preservative causes allergic reactions, in particular eczema. If you saw it as part of the means, better give up the purchase.
Heavy metals are toxic substances whose use in cosmetics is prohibited. Heavy metals can occur in cosmetic products of poor quality or due to contamination of the products during the production process. Lead is the most dangerous metal that affects the nervous system. Nickel causes allergic reactions, it should not enter into the composition of cosmetics for children, especially in concentrations exceeding permissible norms. After research in many means were found chromium, cobalt and cadmium.
How to cook baby care products yourself
Baby cosmetics can be made at home, but the result will not be as bright as in the case of products containing chemical substances.
The recipe for colored cream based food dyes. The mixture is best stored in the refrigerator. To prepare the cream grimirovaniya you will need:
1 tablespoon of solid cocoa butter
1 tablespoon hardened vegetable oil cocoa
1 tbsp corn starch
5 drops natural food coloring (blue, green, red … your choice)
In a bowl with a fork, blend the butter and corn starch, add the dye and mix well before the formation of the colored paste, creamy structure. If the mass is too liquid, place it in the fridge and add a bit of starch. Apply with a makeup sponge or brush. Such tools are easily washed off with warm water and soap.