Colored fur is a gorgeous statement. It instantly adds life to neutral clothing materials and demonstrates a bold attitude to a bright appearance. Unlike all the other fur products, you may need some tips and ideas about wearing colored fur in the winter.
Real or faux, fur is the best thing you can wear in winter to add expressiveness to their image, as well as to look and feel cozy. Although there are certain furs and warm seasons, fur official season is winter when you can wear any type of fur clothing in the belief that in this way will add a big dose of luxury to your appearance.
In addition to traditional fur patterns, latest fashion trends making a variety of colorful psychedelic elements made of fur – coats and jackets to accessories.
Fluffy multi-colored fur with leather
One of the easiest ways to demonstrate their awareness of fashion trends, particularly in the colored fur is wear something bright and colorful on top of your favorite outfit. In this way rainbow long fur adds a black leather jacket, and a simple gray sweater and a pair of jeans-skinny jeans so much life and energy. Large and flashy jewelry is beautifully highlighted by a manicure and can effectively complete your look.
Grey fur vest with belt
If you don't feel bold enough to wear a stunning psychedelic fur, think about grey, which is another alternative to the traditional brown fur.
Fur vest is one of the most attractive parts of your wardrobe in which you should invest, if you want to look a little sloppy, but at the same time smartly and steer clear of any errors of style when wearing fur. A simple white shirt with this vest, add a belt or a belt to break the overall elegance, to create a relaxed charm, and combine all this with a pair of dark skinny jeans – are you ready, are you chic and stylish. Bright accessories are a must in this case, as they can instantly balance the monotony of your appearance and give it subtle interest. The little raspberry clutch, mint color manicure and some flashy jewelry and your chic look is ready.
Voluminous and bright fur Cape
Some people find it too risky to wear fully fur outerwear, preferring to add a small amount of fur to his image for the purpose of modeling and styling.
Stole is the perfect accessory to achieve that goal, it can add warmth and luxury to your appearance, especially if it is bright in color. This shaggy bright blue Cape looks perfect in combination with a mustard coat, blue shirt and vintage jeans. Leave the makeup and hair is natural and not add too much bag to create the most impressive and relaxed feel.
Colored fur with fur
Increase the number of furs in the way and enjoy a double dose of luxury and chic. Fur bag looks very cozy in the winter and if it is painted in bright colors, to Express themselves becomes very easy, even if your style is more monotonous. This bag certainly looks bright and flashy on the background color coats, in this case, it is strongly recommended to make the rest of the accessories simple.
Fluffy fur handbag and coat of colored Doodle
This little furry bag from Fendi with accessories requires very little to make you stand out from the crowd. It helps to wear it with simple coats and jackets and all compliments will be yours. But if you combine this bag with a colorful striped coat of a Doodle, completing the image of a pair of slacks in a cage and the shoes of plaid, the result will be two times more unique and cooler.
Coat color fur trim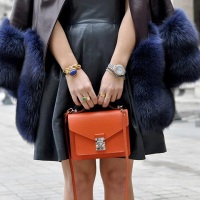 If suddenly you haven't the slightest idea of what style to choose for your image with a fur clothing, choose a ready model with fur accents. Dark-colored leather coat with blue fur trim looks very elegant, especially if you throw it over your shoulders. Put on your little black dress from the skin under the coat and dilute dark view of a bright orange bag and stylish jewelry and you are ready to conquer the streets with its amazing style.
A little fluffy grey fur jacket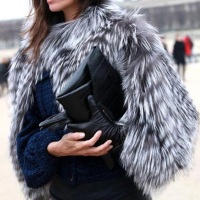 Many people love grey fur, since it can be very different and at the same time, it is easy to combine with different ensembles. Fluffy grey fur jacket adds so much elegance to a simple blue sweater and pair of pants, don't need anything else to make your outfit complete. Simple black leather handbag envelope and a pair of black leather gloves will create the correct ratio of contrasting textures in your image.
Pastel fur jacket sheepskin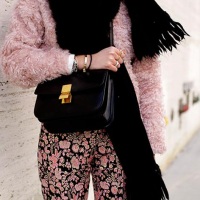 Colored fur is not only bright colors, as you can also choose something in pastel shades, if you are not accustomed to risk in a very matter of her appearance. Texture is such a small sheepskin coats is another detail that makes this image just perfect, as the color allows it so in harmony with the romantic trousers with floral print. Black accessories such as the bag and the scarfwill be the best detail to complement the way and will balance the overall sweetness of this pastel ensemble.
Rainbow fur coat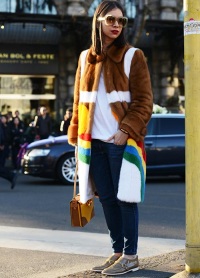 When it comes to rainbow fur, it should be understood literally. Rainbow fur coat from Prada with a length below the knee requires the simplest of clothing in combination with it, as this coat is bright enough to declare itself alone. A pair of dark jeans, a simple white top, tiny bag, cool large sunglasses and a pair of urban chic shoes will bring this winter style to a whole new level.
Fur is not just for special occasions, it certainly looks cool and on the streets too. Be bold and choose bright fur, combine, share and mix it with different clothes and you will see that the cold months can pass in warmth and luxury.