Currently you can buy the powder, which just mattifies the skin. A colorless powder is a part of your daily makeup. It is easily and quickly applied to the skin, sets makeup and allows you to keep the skin matte throughout the day.
A rich choice
Mineral loose powder from Clarins Multi Eclat perfectly mattifies the skin, sets makeup and gives the face a healthy glow.
The composition of the powder Halo libre poudre hydratante perfection, Smashbox allows you to moisturize the skin, preserving its role of powder. Unlike powders that accentuate dry skin, it is best suited for dry and sensitive skin. In addition, the powder is effective for masking wrinkles.
Smashbox
Nars
Loose powder Poudre libre fixante réfléchissant la lumière from Nars is suitable for any skin tone. By itself, the powder of white color. However, when applied to the skin it becomes colorless. The powder is presented in a compact and crumbly.
Colorless powder Hyaluronic Hydra Powder from by Terry is rich in hyaluronic acid, which is able to retain water, which is very important for dehydrated skin. In addition, the powder does not highlight dry areas on the face. Powder suitable for any skin tone.
Terry
Clinique
Mineral powder Poudre minérale apaisante anti rougeurs by Clinique is specially designed for skin with red spots. The powder is yellow, which allows it to conceal red spots on the skin, not giving it a dullness and artificiality.
Flower perfection, Bourjois is a colorless loose powder that smoothes and mattifies the skin. Powder suitable for any skin tone.
Bourjois
Unt
From Unt Dewy Finish – hydrating compact powder that makes the skin silky.
Beauty Amplifier – a compact powder that smoothes the skin and gives it a healthy glow. Colorless powder perfectly mattes the skin and sets makeup. Besides, it visually reduces the appearance of pores and wrinkles. Ultrathin and transparent powder is suitable for any skin tone.
Colored powder
Perfectly to hide flaws using color powder. It can be represented in the form of colored balls or colored compact powder. Each color has its own function:
white brightens;
pink gives the skin a healthy hue;
green mutes redness;
mauve attracts the light;
gold and mother of pearl give the skin radiance.
The powder is very practical in application. It can be applied as a powder puff and brush. The powder should not be applied just on the skin, better for the Foundation. Colored powder is applied on the middle part of the face from top of forehead to bottom of neck, cheekbones.
Copines Line Descriptif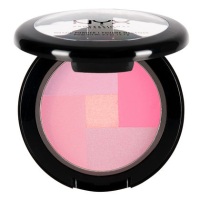 Mosaic Powder Blush
Powder Poudre Mosaique Compressée from Descriptif Copines Line has ultra-thin texture, which gives the skin a natural beautiful tones.
In powder Mosaic Powder Blush 9 matte and shiny shades create a harmonious blend. Powder gives the skin a healthy glow, even a light tan. The colors mixed together perfectly, providing a magical result. Powder Mosaic Powder Blush suitable for all skin types.