Cosmetics Clinique is well known to all women with complicated skin care. Mark has more than forty years, and during all the years it has strengthened its position in the market of cosmetics for problem skin. Innovative development laboratory specialists Clinique, focus on an individual approach in the creation of new cosmetic products have made the brand one of the leaders in its niche, from which this cosmetics can hardly compete with any other company.
The history of the brand
Carol Phillips
The story of the brand Clinique began in the USA in 1967, as a "daughter" of the already known and established then cosmetic company Estee Lauder. The editor of the American edition of Vogue Carol Phillips and dermatologist Norman Orentreich received a proposal to develop a separate line cosmetics for care, which could be used by people who are prone to allergies and hypersensitive skin. Needed cosmetics that do not contain any dyes, perfumes, and for this purpose it was necessary to provide multi-tiered testing system cosmetics. The principle of maximum security of funds to care for different skin types, which does not override high functional properties of cosmetics, became the credo of the brand.
Net work
The big success story Clinique began in 1968, immediately after release to the market a three-tier system of care, which became the hallmark of the brand, and it is still. The basic principles leading to healthy beautiful skin, Clinique puts a deep cleansing, exfoliation and hydration of the skin, which should be routine items of daily care. This system includes a solid or liquid soap (Facial Soap/Liquid Facial Soap, exfoliating lotion (Clarifying Lotion), providing a soft, gentle exfoliation, pore cleansing, removing dead skin particles of the epidermis, and the cream or gel (Dramatically Different Moisturizing Lotion/Gel) as a basic moisturizing day treatment, chosen according to skin type.
Previously salicylic acid was known as a good exfoliator, but it was used not so often, and mostly for oily, combination and problem skin. Clinique was the first brand that has demonstrated the ability, and most importantly, the efficiency of using funds from salicylic every day. It is part of a three-tier system of skin care, and allows you to effectively exfoliate the epidermis every day. Clinique three step system is available for both women and separately in the male line.
Comprehensive care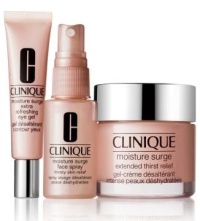 Cosmetics Clinique are very diverse, and if you are the owner of the problem or hypersensitive skin, you can find in the brand's assortment all you need to maintain its health and beauty gradually get rid of acne or hyperresponsiveness of the epidermis. Here you will find the means for removing makeup and cleansing the skin, cosmetics to exfoliate, mask and serum, moisturizer, skin care around the eyes and lips, makeup for the body, as well as means for protection from the sun and tanning.
The three-step daily system maintenance does not only pride Clinique laboratories. One of the bestsellers is not the first year is the line for the correction of skin tone Even Better, including carers and toning facial, eye, hands, including lightening cream and prevent age spots. One of the novelties of the line – compact concealer smoothing skin tone Even Better Compact Make Up c SPF protection.
If you are in search of a line of products for skin eyes, Clinique, you will find a series All About Eyes – tools for hydration, nutrition, lifting and radiance age.
Others are known as caregivers of the Clinique line: nourishing and protective series Superdefense, deeply moisturizing cosmetics Moisture Surge, means of rejuvenating the skin Youth Surge c antioxidants, cosmetics for care of problem skin with acne – Anti-Blemish Solutions series to reduce the pore – Pore Refining Solutions. For tired dull skin lacking radiance, there is a line Turnaround, including renewing night cream concentrate and mask.
Decorative cosmetics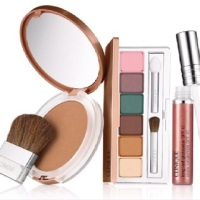 In addition to the widest range of skin care cosmetics, Clinique produces decorative means. They do not differ a great diversity concerning colors eye shadow, blush and lipstick, but they have a great advantage over competitors. These funds were repeated testing, their hypoallergenic confirmed, and their use is absolutely safe for the skin.
In the decorative lines of the brand deserve special attention tone means. Clinique helps girls with bad skin is not only to care for her with the help of care funds, but also qualitatively hide pimples and redness using masking basics, proofreaders different textures, neutralizing redness, providing excellent coverage with no mask effect.
Individual approach
The men's line includes Clinique three step skin care system, which is designed on the same principle as female, but with emphasis on the characteristics of men's skin, cosmetics for care of face and body and shave.
Each year the laboratory Clinique produces innovations that strengthen reputation in the market of cosmetics for problem skin and skin that needs an individual approach. Among the new funds 2014: Smart repair serum Clinique Smart Custom-Repair Serum, Cream-gel for problematic skin care Anti-Blemish solutions clinical clearing gel, Foundation Superprimer Face Primers, supertasty Superdefense moisturizer, protective agent, which prevents the appearance of age spots Even Better Dark Spot Defense SPF 45.