About the place of Denis Simachev in modern Russian and world fashion one can argue, questioning the appropriateness of this designer in one row with colleagues who really create something new, and not resting on their laurels pushed into Oblivion culture. For someone Denis Simachev – designer with a name that he deserved his skill, for others it is kitsch character would have to invent if it could not have happened. But no matter how they were colleagues or fashion snobs, Denis Simachev – a brand that does not require extra views and quickly recognizable among others.
Search yourself
Denis Simachev was born in Moscow in 1974 in the family of the military. It was supposed that the boy also chooses the military path, but he refused to dynasty and filed papers in the Moscow College of arts and graphic design, then Spanish courses at the Academy of professionalism Pivot Point, Studio classes of Yuri Grymov. In twenty years Simachev became a student of Moscow State textile Academy, after which he became a professional designer clothing and shoes. Having received a good education, Denis Simachev became a successful pretty soon. In 1999 he received several honorary awards in the field of design, both in Russia and abroad. Inspired by the first success, the designer created a registered trademark in 2001. Thus was born the brand of Denis Simachev.
A year after the launch of the brand Simachev has already presented a female line, and a year later he showed his vision of men's fashion, which met the collection of «War. Mom and dad.» The collection has become a fashionable event of the year, it was called a sensation, and its Creator – the new star of the Russian fashion industry. Almost immediately the collections were demonstrated on the European Fashion Weeks Simachev took and Paris, and Milan.
In 2006 in Stoleshnikov lane in Moscow where the most luxurious shops, opened the first monobrand boutique under the guise of Denis Simachev. In the same year the Russian male gloss GQ handed Симачеву prize as the best designer of the year. Since designer continuously working in different projects, in particular, creates clothes for sports brand Atom Raсing, however, the first screening of the complete collection of Denis Simachev took place only in 2009.
International success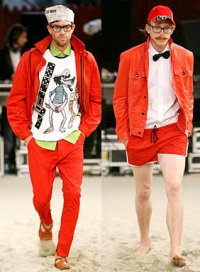 Recognition designer at home – it is certainly nice, but fame abroad is not given to everyone to successful master who is engaged in fashion, even if he суперталантлив and has many professional awards. Brand Denis Simachev is, of course, not the face of the modern Russian fashion, but it is the Western world one of the representatives of Russia in its initial incarnation, full of stereotypes. Operation of folk art image of their Motherland brought Симачеву success in Paris, Milan, Japan, and many people still cannot understand how he managed it.
Fashion from the Simachev called the quintessence of клишированного perception of Russia abroad. Its fabric bloom хохломой and Gzhel, chest t-shirts portraits of the President or a king with a humorous inscriptions in huge letters. Russians in the world's fashion capitals for a long time represented as dowdily dressed people with фейковыми labels Gucci or Versace in the entire breast. Simachev grabbed that kitsch trend and interpreted it differently. In his collections to the naked eye seen a nostalgia for the nineties, the traditional national culture, embodied in rich floral ornaments, and all this was done with great self-deprecating, make trademark of Denis Simachev unlike any other. His collection, which are currently on the best European catwalks and sold in the luxury of the French, Italian and Japanese boutiques, calculated on a special type of clientele. It is also worn by people brave, young, active, who are not afraid of judgmental attitudes and full of healthy sense of humor.
When sewing collections of Denis Simachev used mainly materials of Russian production, bet on their indisputable quality, as well as on the skill of the cutters who possess the secrets of the production of clothes and shoes used in prewar years.
Denis Simachev once remarked in an interview that in the West the trademark nobody promotes, while not denying the importance of advertising products. But it seems that its mark advertising is not required: Simachev – man of the brand, who was born recently, but inexplicably received what many seek for decades.