Italian fashion is already a brand, and make your name one of its characters is a dream of many. Although successful persons in it abound, legends and embodiment of this industry units become. Giorgio Armani is one of the representatives of this elite class. The company, which he founded and developed, is one of the most influential in this business, and his creative achievements speak for themselves. For example, an Armani suit – another brand.
The path to the top
Giorgio Armani was born in Northern Italy in the town of Piacenza in 1934. Parents dreamed see the son of a doctor, he even started this way. But stopped in time, having decided that the operation is not what he wants to do. After service in the army the young Armani became assistant photographers, from what really enjoyed. Creativity – that's what he wanted to do. Little by little Giorgio began a drive to success, that at the initial stage it seemed very slow.
In the fifties Armani moved to the Italian capital of fashion – Milan, where he got a job in a large Department store, La Rinascente. Man did not stay long on the position of the ancillary worker, soon he was entrusted window dressing, and then purchase service, where he began deeper into the basics of design excellence. In 1964, he met the master of Italian fashion Nino Cerutti, who entrusted Giorgio development of models for brand Hitman.
Almost ten years Armani worked as a designer, this experience helped him to come to creating your own brand of clothing. The young man, who had no special education in the sphere of design, rose to its vertices independently, having reviewed the case empirically, gradually moving on to success from the very bottom of the profession. Brand Giorgio Armani was born in 1974, at the same time the world saw the first collection of fashion designer, who has introduced a line of men's clothing. A year later appeared female line. Then, in 1975, was founded Corporation Giorgio Armani S.p.A., which is currently one of the largest and most influential organizations in the industry. Its annual turnover is about EUR 2 billion.
Starry present
For years of work in the sphere of design of clothes and accessories Giorgio Armani has become a living symbol of elegance in a fashion that is especially appreciated by business people, caring about your professional image, and famous men and women who pick up for itself outfits from Giorgio Armani, to go to the ceremony «Oscar» or into ordinary premiere. Among the fans of the brand, such stars of the first echelon as Megan Fox, Penelope Cruz, Alicia Keys, Julia Roberts, Michelle Pfeiffer, johnny Depp, Clive Owen and George Clooney.
Currently the company Armani comes with a few lines. Armani Prive is a collection of Haute Couture, Emporio Armani – clothing and accessories, ready-to-wear for men and women, line, characterized by elegance and comfort. Armani Exchange new model designed for young clientele – things very practical and lower in cost than the previous lines. Armani Junior is a line of children's clothing and accessories. Under the Armani brand is produced and perfumery decorative cosmetics and in 2010, under the guise opened the first hotel.
Elegant practicality and high fashion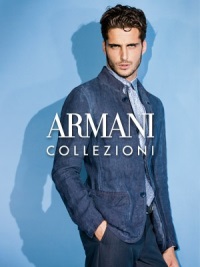 Name Armani many years remained constant symbol of elegance and high style. If you want strong male or female costume for the evening – you can find it in Armani. Need a feminine dress on the red carpet – certainly in the Armani you can always find what you need. Know about the stars and ordinary mods without financial difficulties. Everyone knows that the Giorgio Armani, working on new collections, always prefer minimalism and compactness experiments, which do not stop many famous fashion designers, trying to draw attention to their new collections. The Italian, who built on his behalf мультимиллиардную Empire does not want anyone to surprise and shock, he continues to follow his path, without changing the canons, adopted in Armani, not afraid of accusations in predictability and незамысловатости.
His fashion is embodied in the tissue of the perfection of form, which does not hide masculine or feminine nature, and is not disguises as innovative approach to cover the very idea to dress nice, stylish and elegant. Its advertising campaigns in many ways similar to each other, and it lasts not one season. And, despite the fact that the editors trendy gloss often bypass the collection of Armani, preferring them more interesting alternatives to its colleagues, the brand continues to stand on its solid Foundation. It is based on a sense of moderation and taste, which is so often lacking in modern fashion.