Not all can afford to buy on a beautiful winter coat from natural fur or expensive coat. The most popular winter clothing in many countries for many years is a down jacket. How to choose a quality down jacket?
Often under the guise of jacket careless sellers offer customers a warm jacket or literally "down bags". Choosing a down jacket, you should pay attention to important points which will allow you many years to enjoy high-quality and beautiful thing.
Pooh
This jacket is outerwear, insulation which consists of fluff aquatic birds (Eiders, geese, and ducks) and nothing else. Pooh due to its properties and elasticity are able to create a layer of air and retain body heat, not missing the cold. If you offer jacket, in which, instead of down the batting or feathers, this is not the jacket. Pooh in this jacket should be elastic and soft. Most often uses a mixture of down and feathers in the ratio of 80:20. Such proportion is perfect for moderately cold winters. For extreme temperatures it is better to choose a down jacket, where the ratio of down and feathers is 90:10.
Fabric
Fluff is good, when it is dry, soft and airy, so it is especially important to choose the down jacket with a waterproof cloth. The top fabric should be dense and of good quality, and through it he didn't get out the clumps of down. So soft filler is very easy to absorb moisture and it spoils quickly. If you are soaked to the skin, try to quickly dry the jacket to the filler coats caked and not become rotten. Pooh is very easy to absorb moisture and spoil. The fabric should be breathable to ensure breathability and at the same time to keep warm.
Lining
In cheap down jackets the lining is usually made from synthetics, a higher quality and more expensive models – from silk.
Weight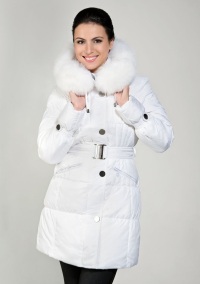 If the jacket is real and made of feather, its weight will certainly be small. For example, standard jacket can weigh less than one kilogram.
Hood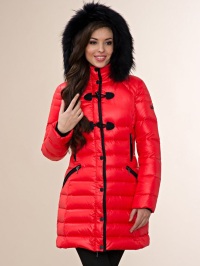 This important detail of the jacket should be large and reliably protect the wearer from rain and frost. Usually the hoods in these feather trim natural or artificial fur. This is done not only for decoration products, but also to protect the face from cold wind.
Seams
Usually, the jackets are different from conventional jackets by the presence of partitions. This rectangles or squares. In each such section of a width not exceeding 20 cm invested a certain amount of the mixture of down feathers. Quality seams are very important for the structure of parks, as this breakdown allows feathers to keep their shape and not to stray into a ball.
Style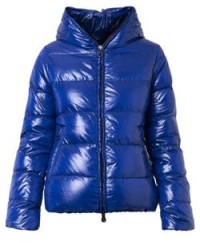 Typically the down jackets are no different variety of models. For men it is a standard or volumetric parks, and in the women's short jacket to the waist, a classic model of medium length and extra-long down-filled coat. If you plan to wear the jacket at very low temperatures, it is better to choose a longer model. Otherwise, you may encounter diseases of the genitourinary system.
High quality down jacket is more expensive than warm jackets, but if you know how to choose, this thing will last you many years, completely without losing the shape and its properties.