Chain stores Ile de beaute (Ile de beaute) in Russia has a rather curious history: it is a rare example of a successful business, which originated in the province, but successfully conquered the capital. Today, the stores Ile de beaute is widely famous among the buyers of cosmetics in the country: there is not only always sell high-quality cosmetics and perfumes, but also the level of service is consistently high.
The story, like a fairy tale
Business in Russia is developing according to certain laws. And in most cases, new large companies encounter in Moscow, and only then gradually spread to other regions. This happens with many chain stores, but Ile de beaute has become one of the happy exceptions to this rule.
The first stores Ile de beaute opened in 2001. At this time in Russia was flourishing network of shops of perfumery and cosmetics, launched back in the late nineties of the last century. At first no one could not think that a modest company with a refined French name (Ile de beaute in French means "island of beauty") will eventually become a competitor to such networks as "Letual" and now ceased its existence "Arbat Prestige". However it happened.
Today, the company Ile de beaute is one of the most successful retailers in Russia, and throughout the country more than 140 stores, including the largest online store of beauty products.
Components of success
What is the secret to the popularity of the company? First and foremost, in the quality of service. Him a guide Ile de beaute pays attention. Sales consultants of the company receive special training. They are not only competent and professional, but always friendly to customers. They will be happy to advise customers and help them make choices.
Of course, well-trained staff is not everything. Stores Ile de beaute impressed with its range. There are more than thirty thousand names of funds for personal care, decorative cosmetics and perfumery. The range is formed for a reason: there is an ongoing analysis of customer preferences and on store shelves appear precisely those means which are of interest to visitors "Islands of beauty".
In stores Ile de beaute, you can buy the most famous brands of perfumes, including the latest releases and limited editions. Range of cosmetics for personal care is also impressive: there are tools for every taste and for every budget, from the "mass market" to "Lux". In addition, will not leave anyone indifferent a huge selection of makeup, including luxury brands.
Finally, the company constantly offers its visitors interesting promotions, discounts, bonuses. Works discount program. Periodically in the stores are so-called "client days". These days representatives of various cosmetic and perfume brands talk about their products, give individual advice and give gifts. While a client of the day you can choose individual care for their skin, to try new makeup by professional make-up artist and, finally, to make a bargain with the discount.
Cabins, studios and beauty institutes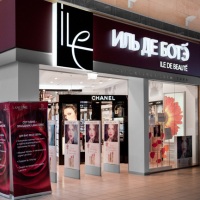 Cab beauty is an interesting idea, which no doubt contributed to the popularity of stores Ile de beaute. If you purchase a certain amount the store's customers get free access cosmetologist in a cozy room at the store. Within six months after the purchase you can sign up for treatments at the beauty cabins – the main thing is not to lose a receipt confirming the purchase.
This service is available to customers in all regions, but the amount of the check may differ. For example, in Nizhny Novgorod you need to buy cosmetics to fifteen thousand rubles, in Vladivostok – 7000, and in Moscow conditions vary in different stores.
In the beauty cabins skilled professionals provide diagnosis of the skin or hair, help you choose cosmetics and make up an individual program of beauty for every client. In addition, it is possible to test new tools.
In addition to booths company Ile de beaute offers its customers to contact the beauty Studio – stationary or mobile. In the studios you can get detailed information at first hand" about cosmetics of different brands, and perform certain cosmetic procedures.
Institutes of beauty treatments with the use of cosmetics of a class "Lux". All paid treatments carried out in beauty institutes that are controlled by the firms trademark owners.
The pleasure of shopping
Why in stores Ile de beaute customers come back again and again? The shops are very conveniently located: despite the fact that trading rooms are huge, they are easy to navigate and find everything you need. Convenient system of pointers and logical layout allows not to spend too much time visiting the store, and immediately find what you need. Affordable and luxury brand cosmetics for women, men and children, cosmetics, personal care, perfumery – in each section customers will find a wide range, attractive prices and pleasant surprises.
In stores are always some promotions and discounts. For their loyal customers the company has developed a discount program. The more purchases, the more discount, and these groupies chain stores Ile de beaute can save on personal care for up to 25%. Students are offered special conditions: discounts up to 25% on some products youth brands in addition to the constantly growing discounts for the rest of the range. And for purchase at the online store is a special virtual card, which also allows to accumulate discounts.