Karl Lagerfeld, one of the most famous designers in the world of fashion, was born in Hamburg, Germany. Although he never revealed the exact date of his birth, it was reported that he was born September 10, 1933 (on other data – 1935 or 1938). Known for his bold ideas of design and constant new inventions, he was recognized as the magazine Vogue unsurpassed spokesman mood-date.
Biography
Father Karl Lagerfeld, Christian, made a fortune, bringing in Germany condensed milk. Carl and his sisters grew up in a wealthy house, encouraged intellectual development. His mother, Elizabeth, played the violin, and conversations at the table often included religious and philosophical subjects.
When in the 1930s Hitler came to power, the family moved into the countryside in Northern Germany, where, as later recalled Karl, he was completely devoid of any knowledge about the Nazis.
From an early age Karl expressed an interest in fashion and design. As a child, he often cut out images from fashion magazines. He was also known for having criticized the school for their manner of dressing. When Lagerfeld was a teenager, his family moved back in Hamburg, and he plunged into the world of high fashion.
Feeling that success is waiting for him somewhere in the other place, the fourteen-year Lagerfeld with the blessing of the parents took the bold decision to move to Paris. There he remained for two years.
Education and knowledge of foreign languages helped him finish his studies in Paris. In 1955 he won the first prize in a competition organized by the International wool Secretariat», where he presented a series of drawings and designs. Coat which created a Junior winner, sewed Pierre Balmain, and Lagerfeld became an assistant of the great designer. He stayed with him for three years, then began to work as the Director of Jean Patou, where he spent five successful, but quite quiet years. The relative freedom of creativity allowed him to deepen their knowledge of the subjects, who are passionately interested in him for years: history, architecture, music, and especially on the history of 18th century France.
Career
When in the early 1960s he appeared own business, Karl started his career independent stylist in France, Italy, England and Germany. In this time I had to upgrade fur, so that they can become competitive fashion element. Therefore, FENDI invited Lagerfeld cooperative, which is still ongoing.
Perfume is an important direction of fashion for Lagerfeld, and in 1975 he launched a line of CHLOE. He became the first famous fashion designer clothing, producing aromas without first getting your own design mark. Then, in 1978, there was a brand LAGERFELD, wrought men's perfumes.
1980 Karl Lagerfeld has become the biggest star in the world of fashion. The press loved to write about his changing tastes and social life. Although he gained a mixed reputation due to the fact that he had applied to one brand to another, he also won the success with which few can boast designers. In the early 1980s he has done for the house of Chanel what many thought was impossible: he revived almost dead brand with a line of ready-made clothes, which became very popular.
In 1984, he created his own line of KARL LAGERFELD, continuing to cooperate with the house of CHANEL, where in 1983 he became the art Director, and his long-term collaboration with FENDI. He also created new collections for CHLOE from 1992 to 1997.
Permanent interest Lagerfeld to experiments led him to create illustrations of Hans Christian Andersen's «New clothes». He also created the costumes for the Opera theatre La Scala Opera house Florence, Vienna Burg theatre, the Salzburg festival, and the ballets de Monte-Carlo.
Since 1987 Lagerfeld began to create their advertising campaigns. His passion for photography and books has turned the campaign in real art books, and he continued to be engaged in photography for prestigious fashion magazines.
1997 was the end of the company LAGERFELD. In 1998 he started a new adventure, by launching the new brand, LAGERFELD GALLERY.
In November 1999 opened a bookstore 7L, and in October 2000 publishing company EDITIONS 7L. Now Lagerfeld was the publisher and the owner of the bookstore.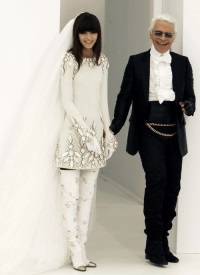 In 2000 Karl Lagerfeld has changed his image. Willpower diet helped him reset 47 kilograms, and he abandoned the way of life that no longer in harmony with his nature. He wrote the book «Diet 3D Designer, Doctor, Diet ' of his extraordinary experience. The book sold around the world tens of thousands of copies.
In 2005 Karl Lagerfeld sold their line of the company Tommy Hilfiger, including Lagerfeld Gallery and some other collections continuing to lead their creation. This did not affect its agreement with fashion houses Chanel and Fendi, with whom he continues to cooperate.
In 2006, the name of Karl Lagerfeld Gallery has changed on KARL LAGERFELD.
In 2007, released a documentary film dedicated to Karl Lagerfeld.
In 2008 Lagerfeld developed the design of French dictionary le Petit Larousse illustre.
Being an avid photographer, Lagerfeld often create their own portraits for the press, distinctive features of which are a fan, a long white hair collected in a long tail, and sunglasses. Karl Lagerfeld is a surprisingly confident man who speaks German, French, English and Italian.
In recent years Lagerfeld continues to pursue an active life. In 2011, he created a line of glassware for the Swedish company Orrefors. In the same year he signed a contract for the creation of a new collection of clothes for stores Macy's.
The designer says: «most of all I love to do things I never done before».