You want to lose weight but don't know how? To sliknot extra pounds for a longer period it is very important to make the menu healthy eating for weight loss and increasing physical activity. Not necessarily sports, enough a daily walk or a little swimming each week.
Basic principles
To lose weight, you need to rely on the basic principles:
Give yourself time at least a month to get rid of 2-3 kgs.
Try to avoid a sudden strong hunger and fatigue.
Strictly adhere to the established rules.
Avoid deficiency of vitamins and minerals.
Do not use special medicines or foods for diet.
Keep the maximum pleasure from food.
Recommendations in nutrition
To change your diet, you must reduce the amount of calories, that is, for a start, fats and quick sugars. Always observe good dietary practices, adding a few simple rules.
Do not skip meals, especially Breakfast, which should be dense. Don't overeat in the evening.
Do not eat anything between meals. If you still feel hungry, drink a large glass of water, coffee or tea without sugar. Drink before meals and during meals.
Continue to eat starchy foods at every meal: pasta, rice, potatoes or bread. They contribute to the feeling of satiety and provide the body with the necessary energy as well as fiber. However everything that accompanies them, it is better to limit: fatty sauces, butter, cheese, sour cream, and so on. Starchy foods need to consume alone or with seasoning without sugar and fat.
Refrain from soft drinks.
Avoid beer and alcoholic drinks. You can drink wine, preferably red, limiting to one glass a day.
Try not to eat out so harder to control your diet. The restaurant is sometimes possible, but friends are much harder.
Choose lean meat, poultry without skin, fish and shellfish.
Be careful with hidden fats: avoid all meat in sauce, fatty sausages, puddings with milk, butter or sour cream, Gruyere and eggs, fried foods, cakes and pastries, sweets and chocolate, ice cream.
Eat vegetables at will and in all forms: raw, boiled, in soup.
Eat two fruits a day, not more.
An important role plays the way of cooking:
Meat: grilled or roasted.
Fish: grilled, baked in the oven or microwave oven, or in foil.
Vegetables: steamed, braised or microwave.
Use condiments and sauces with the least amount of fat: add a little vegetable oil, butter or sour cream, use the lemon yogurt, bouillon cube, soy sauce, aromatic herbs and spices.
Give preference to vegetables and fruits, skim milk, soup broth, low-fat yogurt without sugar, low-fat salad dressing, vinegar, sauce, salsa, cereals, beans, cottage cheese, tofu, and so on.
Drink plenty of fluids. It not only fills the stomach but also affects the body, moistening it, maintaining during the process of cleansing and promoting some chemical reactions. Under the liquid means:
water;
herbal teas;
the axial and milk drinks;
natural fruit juice (without sugar) and vegetable juice;
the tea and coffee.
However, the main source of fluids is water.
Nutritious snack in the afternoon is useful because it prevents hypoglycemia (low blood sugar), which forces you to eat something sweet. The snack should include protein and carbohydrates. For example:
5-6 nuts and 2 dates;
low-fat yogurt without sugar and 1 tbsp of hemp seeds or flax;
30 g of cheese, vegetable juice and raw vegetables;
1 Cup soy beverage and 5-6 nuts;
¼ Cup soy seeds;
30 g of cheese and 1 Apple;
½ Granola bar and 1 Cup skim milk.
Diet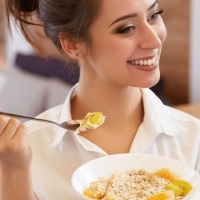 Observing a special seven-day diet you can get rid of 2-3 extra pounds.
Day 1:
Breakfast: unsweetened green tea; fresh fruit salad (tray of strawberries, 1 peach, ½ Apple), natural cottage cheese.
Lunch: 100 g shrimp or 6 oysters; baked in foil cod with coriander, onions, skorody + lemon + a little olive oil; green beans for a couple; 1 grapefruit.
Dinner: asparagus with 1 tsp olive oil; an omelette (2 eggs + 1 tomato); zucchini with Basil on a hrau; 1 soy yogurt + cherries, cooked with ¼ of the vanilla sticks.
Day 2:
Breakfast: unsweetened green tea milkshake (1 soy yogurt + ½ Cup almond milk + 1 banana + 3 apricot); 5 pieces of almonds.
Lunch: radishes + cheese with onion-skordas; 4-5 tablespoons of pasta + sauce with tuna; 2 Protosenya tomato peeled with garlic and herbs; 1 peach.
Dinner: soup (white beans + tomato + onion + zucchini + capsicum + Basil + 1 tbsp olive oil); stewed rhubarb (with agave syrup or stevia).
Day 3:
Breakfast: unsweetened green tea; 1 egg and 2 rice cakes; 1 grated Apple with cinnamon.
Lunch: carrot steamed (cold with lemon, coriander and cumin); 1 salmon steak with lemon; 2 slices of bread with walnuts; fresh goat cheese.
Dinner: 1 gazpacho with diced tomatoes, cucumber and sweet pepper; 130 g pork fillet with onion and thyme; green salad with 1 tsp olive oil; 1 natural soya yoghurt.
Day 4:
Breakfast: unsweetened green tea, natural cheese and a few strawberries.
Lunch: fresh dill in the salad with 1 tsp olive oil + lemon + cumin; 1 veal escalope grilled + steamed zucchini with Basil; 2 apricot.
Dinner: shrimp on the grill; a bowl of boiled quinoa with homemade tomato sauce (2 tomatoes + Basil + ½ onion + 1 tsp olive oil); 1 slice of watermelon.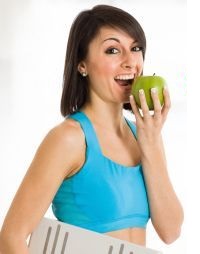 Day 5:
Breakfast: unsweetened green tea; salad with red fruit; 2 slices of bread with nuts or cereals.
Lunch: 2 slices lean ham + cherry tomatoes + arugula and 3% cottage cheese; ½ melon.
Dinner: 4 sardines on the grill; salad of purslane and corn salad with rapeseed oil; serum 0% + compote of peaches and apricot (without sugar) + fresh mint.
Day 6:
Breakfast: unsweetened green tea; smoothie (1 banana + 1 orange juice + 1 peach + 1 grapefruit); 3 nuts.
Lunch: ½ avocado + 10 shrimp + coriander and grapefruit; 1 slice chicken on the grill; eggplant caviar (1 grilled aubergine + 0% cottage cheese + spices); cheesecake with red fruit.
Dinner: cold soup of zucchini with dill and fresh mint; 2 tomato stuffed with quinoa, pine nuts; cheesecake with strawberries.
Day 7:
Breakfast: unsweetened green tea; juice of 2 oranges; cottage cheese with 1 tsp honey and 5 pieces of almonds.
Lunch: raw vegetables (cucumber, dill, tomatoes…) + 1 egg + 1 slice smoked salmon + 0% cottage cheese with lemon and dill; 1 slice of bread with cereal; 1 nectarine.
Dinner: salad of green beans with tomato and shallots (1 tsp olive oil); cod marinated in Lima + 2 tbsp coconut milk + fresh grated ginger; 1 apricot.
The snack in this case is optional, you can do without it. If not, a snack is better to do in the morning or after lunch.