Nanotehnologii is to work with smallest particles of matter, molecules and atoms level of nanoscale, that is, the size of these particles is about 80,000 times smaller than the width of a human hair. Nanotechnology on everyone's lips, they found their application in many areas of our lives, including in cosmetics. If you think that nanocosmetics are something unique, innovative and incredibly expensive, you are mistaken: along with the luxury products of nanotechnology are present in budget brands skin care and decorative cosmeticsthat we use every day.
The use of nanoparticles in cosmetics
The makeup contains tiny nanoparticles are not uncommon, and, despite endless debate about its safety, it is still popular and loved by many.
Nanotechnologies are used in production, but rather are included in the formula of many anti-aging and sunscreens. In these treatments, the nanoparticles contribute to a more easy and uniform application tools, as well as provide a deeper penetration of active components into skin cells and a more efficient delivery of nutrients to problem areas.
In the world of science and beauty from time to time raised the issue of security, long-term effect of the use of such funds, the flames also adds the fact that many manufacturers of cosmetics do not indicate just the use of the nanomaterial in the manufacture of its products. It is known that nanotechnology is widely used in improving the texture and properties of products of such brands as Body Shop, Boots, Nivea, Avon, L'oréal, Unilever, Korres and The Green People of some other.
Many cosmetics contain nano-emulsion – compounds consisting of reduced to the size of the nanoparticle droplets of oil and water, nano-emulsion in turn are used for preservation of active ingredients of cosmetics – vitamins and antioxidants, as well as to give texture or a particular tool, a particular lightness and transparency.
Many anti-aging agents include the so-called fullerenes, these substances are of special concern to scientists, because of their enhanced ability to penetrate deep into the skin cells under the separate issue is the toxicity of these particles. The nanoparticles are included in sunscreens can also be unsafe for UV damaged skin.
Expressing some concern about the use of nanoparticles in cosmetics, the scientists are not trying to ban the content of nanomaterials in cosmetic products. These components are undoubtedly useful, however, the end user remains unaware of whether included in the cosmetic composition of nanomateria all the necessary tests to determine their toxicity and safety.
Regularly calls scientists to cosmetic companies to provide the most transparent list of ingredients of cosmetic products, separately indicating the presence or absence of nanoparticles, responded a little more than a dozen companies, but in fact nanotechnology in one form or another use hundreds, if not thousands of cosmetic companies. The influence of nanoparticles on the body and health requires detailed and in-depth study and development of international standards regarding the content of nanomaterials in cosmetic products.
Cosmetics nanotechnology
Plenitude Revitalift L'oreal
Nanotechnology and nanomaterial found their application in the moisturizer, in the hair cosmetics, decorative cosmetics, anti-aging lines and sun care products.
First of all, nanoparticles are often included in sunscreen. Titanium dioxide and zinc oxide are often used in sunscreen cosmetics, although lately are becoming more popular materials of organic origin, able to replace the above mentioned components.
In cosmetics nanotechnology help to ensure more effective penetration of active components into skin cells. As a "vehicle" in creams, foams and lotions are used liposomes and niosomes. However, more modern structure in the form of solid lipid nanoparticles and nanostrukturirovannyh lipid carriers showed higher efficiency than liposomes. Nanostrukturirovannye lipid carriers at the moment are considered the most effective agents, providing deep hydration and skin nutrition in combination with resistance agent and an adjustable level of occlusion.
remedy from La Prairie
In the production of cosmetic products have recently been patented nanocrystal, nanoemulsions and dendrimers. As a rule, all these components are used for more effective delivery and penetration of active substances into the skin cells.
L'oreal in their products uses a polymeric nanocapsules as carriers of active ingredients such as retinol or vitamin A. So in 1998 the company introduced the complex Plenitude Revitalift – anti-wrinkle cream with a content of nanoparticles.
Freeze 24/7 is a new line of anti-aging remedies that in the near future will also be enriched with certain nanomaterials.
Remedy from La Prairie called the 500 Dollars Skin Caviar Intensive Ampoule Treatment also contains nanoparticles. "Target audience" of this product is the pigmentation disorders, fine lines and wrinkles. According to the company's management, nano-emulsion, are included with this tool allow you to optimize the delivery of active ingredients into the deeper layers of cells and speed up their action.
Procter & Olay Gamble's
Brand Olay from Procter & Gamble's Olay uses of nanotechnology since 2005.
In addition to the above companies and specific cosmetic products nanomaterials in one form or another are present in cosmetic products brands such as Mary Kay and Clinique, Neutrogena from Johnson & Johnson, Avon and estée Lauder, the.
In the hair care products nanomaterials perform a similar function, i.e. nanotechnology to provide more effective penetration and action of encapsulated active ingredients into deep structures of the hair shaft. So the company used the PureOlogy nano-emulsion with the development of a series of means for the painted hair.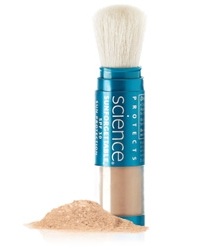 bronzer Sunforgettable
Micro-particles of zinc and titanium in sanctimony help to improve the texture of sun-protection cosmetics to remove excessive oiliness, odor and to make such funds more transparent and light.
Nanoparticles of titanium contained in the bronzer from Colorescience Sunforgettable. Anti-aging sunscreen series Vinosun from Caudalie contains a nano UV – filters and antioxidants.
Of course, in the world of cosmetics is ten times more funds to the content of nanomaterials than we have mentioned here. Nanokosmetika certainly has a right to exist, the effectiveness of nanotechnology has been proved by scientists, we have to find out the level of safety and to develop standards regulating the volume content of nanoparticles in cosmetic products that we use every day.