Pashmina gently envelops, warms in cold weather, it becomes a beautiful accessory for girls at any time of the year. A pashmina can be worn into her purse, taking long evening walks, she will serve as a stylish addition to the wardrobe in elegant or youth relaxed style. What is pashmina, and always do what we take for it, is actually a pashmina instead of simple woolen shawl or scarf.
What is pashmina
Pashmina wool is wool that needs painstaking manual work, which resulted in the appear of luxurious, fine wool scarves, shawls, stoles. Natural pashmina can only be obtained from the undercoat of the Himalayan mountain goat, Capra Hircus. The starting material can be obtained only once a year, during the molting animal. From one goat is possible to obtain just about 100 grams of pure wool, and the creation of a single handkerchief from one hundred percent pashmina will need wool four animals. Such conditions, of course, affect the cost of the final product, not to mention the fact that working with these undercoat requires a very rigorous and only manual.
Almost all of the same features characteristic of cashmere wool, obtained from the undercoat of mountain goats, so a pashmina and cashmere are often equated, but that's not entirely true, although large errors in the merging of terms to denote no tissue.
Pashmina and cashmere
Cashmere is called the undercoat of Himalayan mountain goats that live in the region of Kashmir – he gave the name of wool. The term "pashmina" comes from the Persian word "pashm" meaning wool. When working with undercoat animals to create paintings pashmina, selects the long and thin filaments that are woven pashmina – products from this material.
Under the pashmina always means just cloak tippet, scarf, shawl, while cashmere fabric gives life to a variety of products from scarves and sweaters to gloves and hats. This is largely just marketing, whereby the cashmere has become a common name even for products from pashmina. It is believed that the painting pashmina has the best physical properties in comparison with cashmere – great fineness and strength.
How to wear a pashmina
Exactly how are you going to wear a pashmina, depending on the type of product, its color, size and your own style, and desires. It can be patterned with traditional Oriental prints, or plain, with exquisite natural radiance, if the added fabric silk, which makes the pashmina is more durable and gives the product a different aesthetic.
Pashmina stole is one of the most common styles for this product. If you choose a solid pashmina 100% wool, you'll easily be able to make it luxurious warming accessory for any style. Thin pashmina to throw over the shoulders, to record on one side a beautiful site if you are dressed in a blouse or dress with short sleeves. This applies to both casual and evening style.
Elegant pashmina draped over your shoulders will keep you warm in the office – not her style would be contrary to the dress code, and it can easily replace a sweater or cardigan, in which the office is not always appropriate.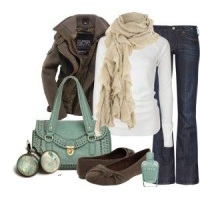 A pashmina can be made to play a role not only simple shawl-shawls and other knitted garments. Throw it on your shoulders for the floors and hung down in front, straighten shoulders, covering them, then pull back, knotting on the back or fastened with a hair clip. You get a stylish Bolero that can be worn on top of the dress.
Take two pashmina same or different colors, throw in shoulders on each side by one so that the ends of each were on different sides of the body. Flatten the two capes at the waist and on the back, covering the torso, twist the thin leather strap or a wide belt – you will receive a knitted tunic.
Pashmina, which serves as the scarf will become your permanent accessory if you prefer an elegant feminine style. You can adapt as a scarf as wide or narrow a pashmina. With it you can simulate tunic front only as in the example discussed above – down flooring products down on the figure, and intercepting waist contrast leather belt. To save luxury fabric as long as possible and extend the life of your scarf, try not to tie knots too tight – loose pashmina always looks a winner, because it emphasizes the subtlety and soft texture.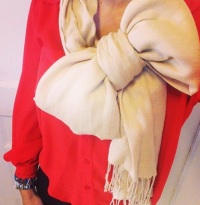 Wrap the scarf-pashmina around your neck, letting the ends forward, the neck volume and leave it sloppy. With this ball you will be able to wear a coat, coat, jacket or cardigan with a deep V-neck. Always looks gorgeous pashmina-scarf pure tone without patterns with a classic cashmere coat.
This Cape is bright or neutral colors will easily fit both feminine and daring youth wardrobe with high boots, jeans and short skirts. A pashmina can be worn not only with the long coat, but with leather jackets-leather jackets or short coats, leaving the legs open, wearing high army shoes or boots. This scarf will soothe the sharpness of the image, and you great play on the contrast of rigidity and intransigence and soft femininity.