Pink clay is often called French clay, based on their place of origin, but in fact not all pink clay comes to us from France. For example, Australian pink clay, not worse, just "came" she's from another country.
Amazing properties of clay have been known since ancient times, this natural material along with herbs and healthy products is widely used in folk medicine and cosmetology. Recently natural masks based on clay becoming more and more popular. Clay is a cheap and available component, which can significantly improve the condition of skin and hair. In pharmacy or specialized store you can find clay of different colors, white, green, blue, pink. The principle of operation of all types of clays are the same, the only difference is in their texture, chemical composition and depth of exposure.
French clay is, in fact, can be any color, the hue of the clay depends on the depth of the soil in which clay is extracted. When you add water, French clay becomes very soft and plastic. In addition to pink French clay in cosmetics is widely used French green clay, with its fine cleansing, exfoliating and softening properties.
Pink clay belongs to the category of soft kaolin clay, this clay is completely natural. Its main component is the mineral kaolinite, one of the most common minerals on our planet. Pink clay is generally extracted from soils of humid climatic zones, most often in tropical forest soils. Place of origin clay determines its mineral composition and physical structure, which in turn depends on the effectiveness of clay as a cosmetic component. For use in cosmetics kaolin ground to powder, this soft pink powder we can buy in any drugstore or cosmetic store.
What's the use of pink clay?
Almost all cosmetic clay perfectly cleanse the skin of toxins, the clay literally pulls out dirt, dust, bacteria, makeup residue and excess sebum. Most clays have a peeling effect, thereby contributing to more rapid cell renewal and the natural skin. However, some clay very dry skin, then it requires deep and powerful moisturizing. Pink clay has a very mild effect, which allows the use of this type of clay even people with very sensitive skin. Mask of pink clay is especially recommended to those who are not suitable or products containing hydroxy acids, glycolic acid and other acids in the formulations of cosmetics.
Clay is the ideal component for surface purification, renewal and strengthening of the skin. Any clay not only cleans, but also gives the skin necessary for its health and beauty minerals. Cosmetic tools clay-based, homemade or store-bought and successfully fight the signs of fatigue of the skin, eliminating traces of stress, lack of sleep and so on. Pink clay improves skin elasticity, strengthens capillaries, lightens dark circles under the eyes, promotes regenerative processes in connective tissues. Pink clay is especially good for Mature and dull skin.
About clay as a cosmetic component is known to many, but that the clay can be taken inside, heard not all. In the for internal use clay stimulates the immune system, improves digestion and activates the regenerative processes.
On the basis of clay can be prepared a variety of cosmetics, masks, scrubs, Soaps and so on. The simplest recipe consists only of clay and water, it is simple but effective. Adding extra ingredients, such as extracts of seaweed, oils, vitamins, or herbal concoctions, will only increase the effectiveness of the product is clay-based. Cooking homemade cosmetics – the process is interesting and exciting, especially as for homemade natural remedies you don't need fancy and expensive ingredients.
Soap made from French pink clay
This soap will make your skin soft and silky. It can be used with any skin type, including sensitive and Mature.
Composition:
30% or 142 ml of olive oil;
30% or 142 ml coconut oil;
15% or 71 ml of oil from apricot kernels;
10% or 47 ml of oil;
10% or 47 ml cocoa butter;
5% or 23.5 ml of jojoba oil;
2 teaspoons of pink clay;
180 ml of distilled or demineralized water;
60 ml of alkaline solution (NaOH).
Measures are given for one piece of homemade soap. Boil the soap, following the standard procedure of soap making, clay can be added at the very end. The pleasant aroma of the soap will give the mixture of essential oils, e.g. oils of rose geranium, Jasmine, ylang-ylang and sandalwood (14 ml). In conclusion, put the soap in the form and forget about it until it hardens, as a rule, this process takes from 24 to 48 hours. Store soap in a cool place.
Mask of pink clay and roses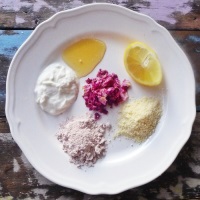 This easy to prepare mask has a mild but deep cleansing action, after that your skin will become fresh, smooth and radiant.
Composition:
50g pink clay;
10 g of fresh rose petals;
50 g of yogurt;
the juice of half a lemon;
10 g of honey;
20 g ground almonds;
50 g of distilled water.
In a small bowl, mix the pink clay and ground almonds. Almond softens, tones and exfoliates. Grind rose petals in a mortar to a smooth paste. Rose petals are rich in carotene, vitamin K and vitamin B. Ascorbic acid, which is contained in the rose, tones and moisturizes dry sensitive skin.
Add water to the mixture of clay and almonds, combine it with crushed rose petals and add desired amount of yogurt (yogurt can replace sour cream). Yogurt contains a lot of useful elements: lactic acid, calcium, zinc and vitamin B. Lactic acid exfoliates, softens and moisturizes dry skin. Zinc has anti-inflammatory properties, relieves swelling that often accompanies acne and has a mild astringent effect. In addition, zinc regulates the sebaceous glands and prevents acne. Vitamin B moisturizes and tones.
In the resulting paste squeeze the juice from half a lemon and add the honey.
Apply the mask on dry face and leave on for 5-10 minutes, then gently rinse with warm water and blot face with a towel. For maximum results, try to do this mask once a week, the main thing not to be lazy and very soon you will notice positive results that will surprise both you and those you will discover the secret of your beautiful and youthful skin.