Products that you buy in the store, it's safe to judge whether you will be able to get over the diabetes or he still take the better of you. Examine the products against diabetes, please see our list of twenty names.
Apples
They should be an integral component of your diet, as have a beneficial effect on the body. Apples are low-calorie foods, contain high levels of fiber, satisfying hunger, fighting cholesterol and reducing the glycemic peaks. Wash and chop the Apple, add a pinch of cinnamon. A bowl of Apple put it in the microwave for approximately four minutes until it becomes soft. Before use, add a little yoghurt with oat bran or oat flakes. You'll have a nutritious dessert or Breakfast.
Avocado
Rich in monounsaturated fats avocado slows down the digestive process and prevents the rise of blood sugar after eating. Try it instead of mayonnaise or butter to spread on bread mashed avocado. So that avocado does not turn brown, sprinkle it special food spray or RUB with lemon juice and wrap and cellophane.
Barley
Replacing white rice with barley, you will be able to reduce the blood sugar level and maintain it in a stable condition within a few hours. Soluble fiber barley slow down the process of digestion and absorption of carbohydrates. You can add barley to soup, use as a garnish or base for stew, saute.
Bean
Soluble fiber of all legumes (peas, chickpeas, beans, soybeans, edamame) reduce the level of sugar in the blood. Thanks to the proteins of legumes can easily replace meat in the main dishes. Before cooking legumes can be placed in water for ten to fifteen minutes to become softer or to cook them in a pressure cooker.
Beef
Try to buy lean cuts (leg, fillet, Podlesny edge, the side of the steak). Beef should be ¼ of your food portions. Drinking enough proteins will help you maintain muscle mass during weight loss while maintaining a high level of metabolism. To make the beef more soft and juicy, you can use marinades containing vinegar, wine or citrus juice.
Berries
Red or blue berries contain natural ingredients anthocyanins. Scientists believe that these pigments reduce the level of glycemia, stimulating the process of insulin production. Berries must be in sight, so you can from time to time to eat them. You can make them lollies or flavoured ice cubes.
Broccoli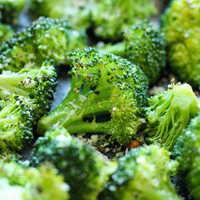 Broccoli contains large amounts of chromium, a component that helps reduce blood glucose levels. You can add broccoli to the soup, pasta, stew with garlic, soy sauce, mustard or sesame oil.
Carrots
Carrot is one of the richest natural sources of beta-carotene, which reduces the risk of diabetes. If you are tired of gnawing on raw carrots, mix carrot sticks fries. To do this, cut the carrot thin strips, place on a plate and season with olive oil, salt and pepper. Roast for forty minutes at a temperature of 200C.
Turkey or chicken
Chopped or whole breast not as greasy as the meat on the thighs or lower legs. Never eat the skin, as it contains large amounts of saturated fats. If you buy chopped Turkey, please note that it was a breast.
Eggs
One or two eggs will not raise cholesterol levels, and you will feel full for hours. To fry the egg, drizzle the pan with food spray, wait until the protein will take on bubbles. Then gently move the pan back and forth.
Fish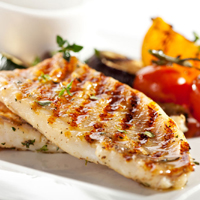 The most dangerous complication of diabetes is considered a heart disease. The consumption of fish once a week reduces this risk by 40%. Fatty acids contained in fish, are struggling with diabetes, insulin resistance and inflammation, a major factor in coronary heart disease.
Flax seeds
Flax seeds are rich in proteins, fiber, good fats. They are also a source of magnesium, which helps cells to absorb insulin. Flax seeds are recommended to add to the mess of cereal, yogurt, ice cream, meat rolls, chops, burgers, pancakes and bread.
Milk and yogurt
These products contain proteins and calcium. Food, including dairy products, may overcome insulin resistance in diabetes. If you don't like skim milk, try ultra-pasteurized yoghurt. Can add a little honey.
Nuts
They contain a lot of fiber and protein. Nuts are digested slowly, which is quite suitable for the blood glucose. And although a lot of lipids, nuts are beneficial due to its content of monounsaturated fats. You can add nuts to soups and main dishes.
Seeds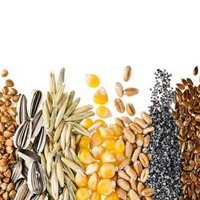 Any kind of seeds – pumpkin, sunflower and sesame contain good fats, proteins and fiber, which maintain low blood sugar levels and prevent heart disease. Sunflower seeds is an excellent natural source of sterols, which lowers levels of lipids in the blood.
Oats
Oats consist of soluble fiber, which when mixed with water to form a thick mass. Oats forms a sticky barrier between the digestive enzymes of the stomach and the starch molecules food. Thus, the digestive system takes longer to convert to sugar consumed carbohydrates. It is recommended to purchase oat flour that can be used during preparation, saute, stew or soups. Oat flour can be used for cooking muffins.
Olive oil
Olive oil is considered liquid gold. The oil contains anti-inflammatory components is so strong that it was compared with aspirin. This explains why people who eat olive oil, fruits, vegetables, whole grains and lean meat, less susceptible to heart disease and diabetes, directly related to inflammation. Olive oil slows down the digestive process. You can apply olive oil for almost everything: fillet on salad leaves, potatoes for baking in the oven, pasta, fish and so on.
Peanut butter
The results of the study eating peanut butter reduces the appetite. Monounsaturated fatty acids also help to balance the level of glucose in the blood.
Whole grain bread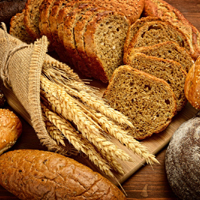 If you eat a lot of white bread, choose the wholegrain to improve sensitivity to insulin. It is better to buy wholemeal bread, this bread will slow down the process of digestion.
Yam
Supplement your diet with baked sweet potato, and the level of glucose in the blood will increase not less than 30%. The sweet potato is rich in fiber, which helps fight diabetes. Sweet potato also contains carotenoids, orange and yellow pigments that help the body respond to insulin. In addition, the potato contains chlorogenic acid, a natural plant component that reduces insulin resistance.