Diverse range of modern facilities for artificial tanning allows you to not only get a beautiful and even tan without leaving your home, but also to choose the most convenient in use of tanning based on personal preferences. Spray, lotion or cream form can be any, but the effectiveness of these tools depends not on the characteristics of consistency, and from that, whether you apply the fake tan to the body.
At first glance, it seems that the following procedure correct applying bronzer looks too complicated and confusing, but at certain skill and practice, uniform and high quality coating of body bronzer will take you less than an hour.
You will need:
Means for bronzer
Scrub to remove dead skin cells
Thin rubber gloves
Brush with a long handle or a sponge – stripe
Vaseline to protect the eyebrow from falling bronzer
Wipes
Elastic band or headband
The dryer, which you can use to speed up the drying process of the cream.
The mirror and, of course, time. To apply bronzer better at bedtime, so as not to stain your clothes and provide sufficient time for complete drying of tanning.
Preparation for applying bronzer
Shave legs and other places you want to free from the hair to better shave at least an hour before applying the cream or spray for tanning. Women typically remove hair on the legs, bikini area and armpits, male on the face and chest.
Before applying the tanning skin should be treated with a scrub, it is better to do for an hour or two before covering skin cream, exfoliating dead skin cells, we restore the texture of the skin making it softer and smoother, and this in turn positively affects quality applying bronzer and the end result.
Bronzer should be applied to completely dry skin, after shave and exfoliate dry well with a towel and make sure that the skin does not remain droplets of moisture.
Apply a small amount of vaseline on your brows, this will prevent the hairs from staining if eyebrows will accidentally become a means for self-tanning. At one time, of course, eyebrows not painted, but if you regularly hit the bronzer to the hair, they can change its color.
Before applying bronzer to the skin you can apply a moisturizer especially if your skin is very dry.
Wear rubber gloves and start applying the bronzer on top, that is from the face. Start with a thin layer overlaying a short tool in a circular motion. Do not forget to apply bronzer to the ear, the area behind the ears and neck.
The next step is applying bronzer on the legs and feet. Use a small amount and RUB it very carefully.
Then apply the tanning lotion on abdomen, chest, shoulders and arms. Again pay special attention to the palms, where the self-Tanner tends to manifest itself especially strongly, experts recommend to put means only in the upper part of the palms, avoiding internal.
In conclusion, covered with tanning the back, for this we need a brush or sponge – stripe. To apply bronzer on your back by yourself is not very convenient, but it can be learned.
Now gently RUB the skin on his wrists, feet, elbows and knees with a cloth, don't wipe your skin completely, just remove the excess color.
Even if you used gloves, after using the self tan, wash your hands, soaping them several times.
In order to speed up the drying process, dry the skin with a hair dryer, briefly, a few seconds over each area is enough.
Work on the bugs
To apply bronzer with perfect uniformity only by a professional or someone with extensive experience in the use of such funds. Not to spoil the result of their labors and get a beautiful tan, it helps to follow a few simple rules.
Within an hour or two, do not wear on the body no clothes. To acquire their final colour the tanning takes time, and usually, it's not 15 minutes, as is often claimed by manufacturers of tools for self-tanners.
If after applying the bronzer you go to bed, cover the bed with old sheets, some tools can stain the fabric, especially the colouring and tanning tools are too dark.
In the morning you take a shower, after a shower you will appreciate the result – a beautiful and uniform tan.
If you notice in tanning errors, fix them in two ways: apply to problem areas a small amount of bronzer and blend it thoroughly. Second option: using lemon juice, can remove excess of color in certain areas (palms, soles, elbows or knees).
To keep the tan from a tube as long as possible, make sure that the skin was well hydrated. 3-7 days artificial tan fades. Once the color of your tan you ceased to arrange, it's time to update it.
The above instructions can be called universal, but using the tan, do not forget that we are all different and skin might perceive a particular facility for artificial tanning, so finding the perfect tan at home is always a percentage of the experiment.
Best tanning
Kiehl's Sun Free Self-tanning Formula: this self-tan pleases no peculiar smell and a light non-greasy texture. After using this bronzer, the result is already visible after an hour, not to mention that "tan from the bottle" always turns out even and looks very natural.
Kiehl's
Clarins Self-tanning Instant Gel: this tool will be appreciated by people with sensitive skin, the bronzer leaves on the skin an orange shade, it has no color and in texture resembles body milk. After a few hours after application the skin becomes smooth bronze color.
Clarins
Lorac
Lorac Tantalizer Body Bronzing Luminizer: if you want to look like a model from a fashion magazine, it means just what you need. Soft creamy texture provides even coverage and perfect shade, ultimately giving skin a light radiant tan. If you for some reason are not satisfied, this bronzer is easy to wash off.
Dior Bronze Self-Tanner Natural Glow Body: this bronzer has consistently received positive reviews. The cream is easily applied, blends, dries quickly and keeps presentable for four to five days. This bronzer from Dior can be used all year round in full confidence that he will never let you down.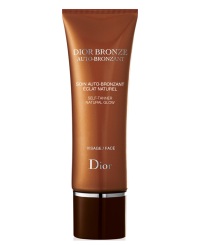 Dior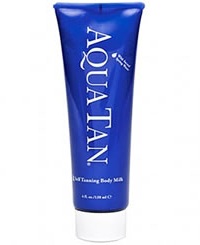 Aqua Tan
Aqua Tan Self tanning Body Milk: easy application, no streaks and perfectly uniform tan color – indisputable advantages of this product. It is enriched with extracts of white tea, cucumber and green tea that promotes a deep and effective hydration. The cream dries quickly, has a light pleasant smell and does not leave the skin oily or sticky film.