Razor, wax and epilator is the new generation do not cease to improve. Despite this, do not forget about the cream after depilation, which guarantees a gentle and soft skin.
Hydration
After hair removal, you should thoroughly clean the skin from foam for shaving, a depilatory cream or wax. Lotion after hair removal Uki allows you to easily remove any wax residue and moisturizes the skin. Except for the razor and cream depilation, other methods of hair removal cause redness and skin irritation. These phenomena disappear after a few hours, depending on skin type, however, you can apply soothing remedies that quickly relieve redness, irritation and fever. Natural remedy of Regge d Alun ideal after hair removal or shaving.
Roi Salomon
After hair removal, it is recommended to moisten the skin cream, serum, body milk, oil – for a great range. Non-greasy body lotion corporelle Нuile purple médina du Roi Salomon moisturizes and softens the skin after hair removal. Those who prefer the texture of milk fat, Lait corporel purple ancestral du Roi Salomon, penetrating the skin, nourishes and strengthens it.
To ensure that the skin remains smooth for as long as possible, you can use special cosmetic products that slow down hair growth. Please note that after hair removal should not be applied to the skin, which include alcohol. It is not recommended to be under direct sunlight.
Means after epilation
2 en 1 chez Guinot – compact deodorant that slows down hair growth. This spray contains no alcohol or aluminium salts. Its formula neutralizes odors and protects against moisture and slows the growth of hair.
Guinot
Sothys
Remedy after hair removal Sothys contains active vegetable and marine components that slow down hair growth, making them more subtle and rare.
Formula cream Mary Cohr is rich in moisturizing agents such as Shea butter or jojoba oil. The extract of papaya and lemon slows the growth of hair. The advantage of this cream is that it can be used in any area of hair removal.
Mary Cohr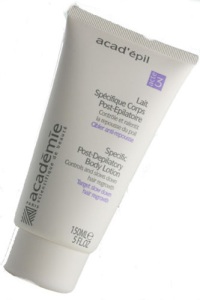 Lait Adadémie
Body milk Lait Adadémie slows hair growth, reduces the feeling of heaviness in the legs. The lotion has a pleasant aroma.