How to make your makeup long-lasting, natural and beautiful? The base under eyeshadow today has become totally indispensable product for girls who want to be confident in your makeup. Base makeup appeared relatively recently, but quickly became popular, because not even the most good shade printed on a base, lay down smoothly and kept for a long time.
Why?
Many generations of women inflicted shadows directly on the eyelids, not caring about special base coating, and were quite pleased. So, maybe today there is no need to use a base under the shadows? However, stylists insist that a truly beautiful and long-lasting makeup without a base coat under the shadow cannot be created.
Of course, you can make up for ever and without basis. If the shadow quality, the makeup will look beautiful and attractive. However, after a few hours even the most expensive and good shadows can start to crumble, to be smeared, to slide into the crease of the eyelid.
If, however, use a base, that all these problems can be avoided. Makeup will retain their original beauty for a long time. In addition, the shadows applied over the base, go more smoothly and look a bit brighter than the shade applied directly onto bare eyelids.
Although the shadow is not included in the category of caring means, in the composition they are usually moisturizing and nutritional supplements that take care of the eyelid skin and protect it from environmental influences and from contained in decorative cosmetics pigments. Even the cheapest shade with suspicious composition will not hurt the skin when using the foundations for a century. Generally, this tool allows you to save on buying expensive shadows, because even the most simple shadows are not very high quality look great, if you apply them on top of Foundation.
Product features
Contrary to popular belief, eyeshadow primer and base coat for the face is not the same tool, packaged in different jars. Eyeshadow primer is designed on the eyelid skin is thin, sensitive, gentle, prone to premature fading.
Quality framework performs several functions. This tool:
Protects the delicate skin of the eyelids;
Nourishes and smoothes the skin;
Facilitates application of eyeshadow, allows them to go smoother;
Makes makeup resistant, prevents from rolling of the shadows, it won't fade and smearing;
Removes oily Shine, but at the same time protects the skin from dryness.
Makeup base can be creamy, in the form of liquid emulsions or in the form of a gel. All these varieties have their advantages and disadvantages. If the eyelid skin is quite dry or aging, the ideal choice would be a creamy texture. In addition, a shadow in the form of a cream may be a little to correct small defects of the skin, but many, it seems too tight. For oily skin fit weightless water-based gel. Some prefer to use liquid emulsion is light, delicate and natural.
Not only shadows, but also eyeliners better go over the basics and look brighter. Therefore, those who have not obtained straight arrow or a neat line of eyeliner, you should try to first apply a base coat, and then use the pencil. This will make your makeup neat and bright, and the lines are sharp.
Usage rules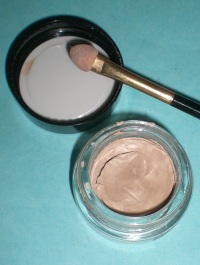 Use a base, like other modern means, very carefully. If applied to the eyelids too many bases, you can achieve the opposite effect of turning: makeup will look sloppy and rude. So quite literally drops the basics. Surplus as the basics can be removed with a sponge.
First, on a cleansed skin, put a moisturizer, then Foundation, and only then is the base for shadows. If you select eyeshadow primer is flesh tone, you can not apply on the eyelids normal Foundation. When using colorless base Foundation can not be ignored.
For application you can use a sponge or fingers. Feather fingers to do the most convenient, and not to stretch the thin eyelid skin, it is best to do apply the product with a tapping movements of the fingertips.
You then have to wait a few minutes for the Foundation was absorbed and merged with the skin color. Usually dry up the basics very quickly. After that you can start applying shadow and eyeliner makeup will look great.
Is there an alternative?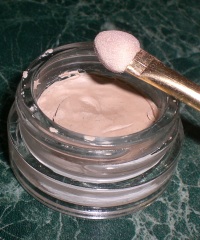 If your makeup is not at hand, it is possible to use, in a pinch, a regular BB. Makeup artists recommend to apply such funds to the entire face, not forgetting the skin of the eyelids to get perfectly smooth skin. On top of make-up Foundation shade usually go well. But if the Foundation is for oily skin, it can dry out the delicate skin of the eyelids. The Foundation designed for dry skin – also not the best option, as it is sometimes too oily, and the shadows on top of it go bad. Another disadvantage of conventional tonal resources: in rare cases they can cause allergic reactions, especially if the skin around the eyes is particularly sensitive. Special same a base under the shadows always have a hypoallergenic composition.
In the old days, when base coats under the shadows did not exist, women gave up resistance, just powder your eyelids. Regularly, this is not recommended, because powder dries the skin a bit, but one output is quite possible to apply this little trick.
If you need to shade looked brighter and more impressive, you can put them under a little liquid moisturizer and wait until it is absorbed. And you can just apply the shadow wet way – so the makeup will look brighter and more spectacular.
Dmitry Anokhin