The pillars of the cosmetic industry is not only innovative design, which allows to solve several problems of the skin, at times transforming it as it could not be done by means of past generations. This is also a brand with a long history, the path which passes through years and decades, and sometimes centuries. Cosmetics Guerlain is one of such categories, which somehow combine both. This is one of the oldest perfume and cosmetic brands, which currently is one of the leading manufacturers of anti-aging cosmetics, including innovative formula, based on the latest developments of the industry.
French elite
Guerlain was founded in 1828 in Paris by Pierre françois Pascal Guerlain. It was a family business that was born and has long worked as a perfume company. Cosmetics Guerlain began to produce much later, and the hallmark of the company was careful preservation of its own traditions. Like many French companies with history not in one decade, Guerlain keeps faithful to those or other cosmetic lines, leaving untouched their names, reminding modern consumers about their heritage.
The company since its Foundation has positioned itself as a producer of luxury products, at that time, and perfumery. Almost two centuries have passed since that time, Guerlain only strengthened their positions. Another important factor affecting the exclusivity of the brand is its focus on cosmetic products. While many competing companies have long been engaged in the production and service, and accessories, Guerlain continues to be firm, whose attention is focused only on a narrow segment. It can not fail to command the respect of fans of the brand, which does not change perfumery and cosmetics Guerlain years, getting as iconic fragrances and cosmetics, and novelties.
Today, under the brand Guerlain produced cosmetics for skin care, decorative cosmetics and perfumery. Cosmetics Guerlain still is elitism, which is expressed in the cost of production, and in the design of its packaging. Jars of creams and especially in cases of decorative cosmetics brand can be a real decoration of the dressing table and cosmetic bags.
Caring cosmetics
Guerlain'abeille Royale – line of skin care products based on bee products: bee complex Royal jelly and honey, thyme honey, honey from the island of wassan, clover honey from New Zealand. The line includes day and night nourishing anti-aging creams, creams for the eyes, serum from the skin with a lifting effect.
Guerlain Happylogy – cosmetics for the renewal of youth with endorphin complex. Tools with anti-aging effect, aimed at the recovery of the skin affected by the first signs of aging.
Line Guerlain Issima appeared in 1980, and since then it is one of the iconic lines of anti-aging cosmetics for skin care. Issima is day and night creams, masks and serums, firming the skin, moisturizing, rejuvenating the skin, giving a youthful glow with anti-aging. Guerlain Issima contains tools for both face and body.
Guerlain Orchidee Imperiale – cosmetics of a class "Lux" with Royal Orchid extract, aimed at the sighting of the fight even with serious wrinkles and sagging. The line includes creams and serums for the face, neck and décolleté skin around the eyes, and a four-week anti-aging restorative course.

Guerlain Secret de Purete – line of cleansing products based on extracts of Lotus flower. Includes a two-phase make-up remover lotion, foam for the face, lotion and scrub to exfoliate.
Guerlain Success Age Splendid – intensive line of anti-aging skin care designed for women aged 45-50 years. The formula of this line based on the properties of intense Magnolia concentrate.
Guerlain Super Aqua – line deep moisturizing cosmetics, whose action is based on the properties of the juice blue African cedar. Cosmetics contains moisturizing and nourishing creams, serums and face masks with anti-aging effect, lotions-tonics, creams and serums for the skin around the eyes.
The lover of perfumes brands can treat yourself to a shower gel, body lotion, for example, with iconic fragrance La Petite Robe Noire.
Decorative cosmetics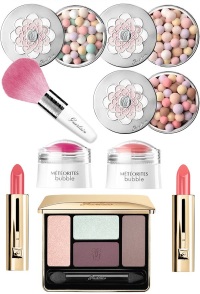 Guerlain Terracotta combines tools for tanned skin. The line appeared in 1984, and every year, especially in spring and summer, it offers interesting new products to maintain the effect a beautiful bronze or Golden skin using bronzers, powder spray, blush in the beads and other semi-permanent make-up tools.
In 1987, Guerlain has released a revolutionary at that time, the cosmetic powder in the form of colored balls. It was innovation that is used by most cosmetic brands on this day: powder containing balls of different colors, masking redness, gave the skin a refined radiance and smoothing out the tone. Today Meteorites represented by a separate line, which includes a compact ball and loose powder in a very beautiful mudrinich.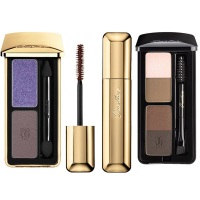 In addition to cosmetics in the above lines, individual products are produced, always worthy of the attention of consumers who are in search of high-quality cosmetics. High demand mascara Guerlain, which is available in various variants, including two brushes, compact shade with a soft light, a liquid liner. Lip produced lipsticks, glosses and primers interesting in original cases. You can find lasting nail Polish Guerlain in the same colours.
Decorative and commitment to the tradition remains unchanged character of the Guerlain family. Each year, the brand is releasing a limited edition festive collection of cosmetics, in which the naked eye visible creative approach to creating. Cases of these lipsticks, gloss and powder resemble the genuine works of decorative art, and decorate long vanities their hosts.