Over the past few years, thick eyebrows have become a real trend and some celebrities even made them his business card. Whether you prefer a great image of Cara Delevingne or bold eyebrows Lily Collins, learn how to achieve a suitable image for themselves.
Check out some of the best advice for a wide of brow, from growing them to care for them. Learn a few tips from the experts and you will never go back to thin eyebrows that sometimes you can add a few years.
Decide how wide to your eyebrows
While thick eyebrows is a real trend, they do not always blend well with your facial features. If your eyes or the forehead is small, you will not look better with big and wide eyebrows. The eyebrow growth takes time, so make sure they fit you to ultimately were not disappointed after all of your labors.
Grow eyebrows
There are two ways of growing eyebrows, if you really want it. The first is simply the rejection of tweezers for three months and allowing the eyebrows to grow. Simultaneously, eyebrow tint and adjust their shape with shadows and concealer. One of the best tips for a wide eyebrows – use a more subtle approach and do it consistently and gradually, which will help them to always look good.
Forget about the pencil
Throw away your eyebrow pencils and go completely on a brown shade. The reason they work better on wide brow, that they mostly stick to the hair. The excess pigment on the skin, as sometimes happens with pencils, and you will get an unnatural look. Once you find the perfect shade of eyeshadow for eyebrows, buy a little more darker for evening.
Find the right color
Choosing the perfect shade for your brows can be difficult. If you are a beginner in the shadows for brows, you may want to try a tinted gel for eyebrows. However, the best advice for a wide of eyebrows when it comes to colors, simple, no matter what product you use: stick to one or two shades lighter or darker than your hair color. If you want to get a bold image of Cara Delevingne, choose a color one shade darker.
Use the brush correctly
Pressing too hard a small angled brush for eyebrows practically turns it into a pencil, leaving too much pigment on the skin. You will need a light touch to apply the color only on the hair without touching the skin at all. Always move in the direction of hair growth to get a beautiful look, natural and at the same time adding expression to your look.
Apply color in the right places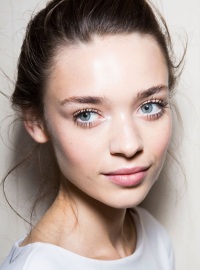 Even with proper color shadows for brows you can still make a mistake that will make your glamorous look too flashy. Applying too much color on the inner parts of the eyebrows is a bad idea. Instead, use one of the best tips for a wide eyebrows and stick the two outer thirds of the eyebrows. You can tint the inner part of the eyebrow light touch.
Adjust the brows gently
Correction, trimming eyebrows remains a necessary procedure, even if you want thick eyebrows. When you do that, you will be able more easily to fill, to tint your eyebrows. Focus on the longest hairs and comb them vertically and in the direction of the ears. Use sharp scissors, and then comb your eyebrows as usual, to get a clear shape.
Do not ignore the gel for eyebrows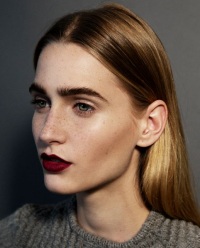 If you want a wide and beautiful eyebrows, you could end up spending a bit more time to keep them in perfect condition. Even with the best advice for a wide of brow you will still need to rely on the gel to lay them and help the hairs stay in place after scratching.
Tidy your makeup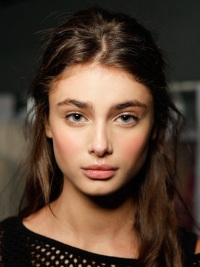 Thick eyebrows already add an element of drama to your outfit, so excessive zeal with your choice of makeup can be a bad idea. If you like the "lack" of makeup, you don't have to worry about what your thick eyebrows you hurt. However, if smoky makeup is too dramatic, it can too overloaded the whole way. Follow these simple eye makeup and focus on the lips.
Eyebrows should be healthy
The best advice for a wide of eyebrows will help you to get the image that you want, but if you notice problems with the eyebrows, it's time to give them a little more attention. Multivitamins and whey for hair growth can help, especially when you are dealing with rare, sparse eyebrows.