Tom Ford is one of those people who seem to succeed in whatever they wish to achieve. A graduate of the architectural faculty, involved in the design of interior and from childhood was interested in fashion, Tom Ford known to most people as a creative Director, who almost single-handedly saved Gucci from collapse, and turned the company into a giant of world fashion. After that he managed to become the founder own fashion brand, and earn the reputation of a pioneer in style as well as a person who helps stars appear as befits them brilliantly.
The Tom Ford is not restricted, clearly showing that he is able to do something outside of the fashion industry. Early in his career, he appeared in advertising, and a few years ago decided to go back to visual art, he founded his own production company, and shot the film «a single man», which was nominated for the Golden lion at the Venice film festival. Apparently, stop Tom Ford is not going to.
Magnetism
Tom Ford gay, but he knows perfectly women: without it, he could hardly manage to create successful line of women's clothing and accessories. Its permanent clients are celebrities such as Jennifer Lopez, Gwen Stefani, Olsen twins, Madonna and many others. Scarlett Johansson and keira Knightley posing Nude in company designer for the cover of Vanity Fair. Advertising brand Tom Ford also often has a very honest sexual – so that someone might find in her provocative. In any case, as advertising and image of Tom Ford, which have repeatedly recognized as one of the most beautiful people on the planet, perform their task, creating around the brand and its founder, the aura of attraction and sensuality. Betting on sexuality, Tom Ford is not beyond the boundaries of good taste and style, and so far it remains so, his reputation as a fashion guru in no danger.
Biography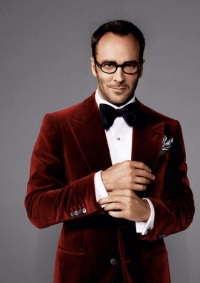 The first Muse Tom Ford was his grandmother – stylish lady ranch which, in Santa Fe, he spent part of his childhood. In high school he tried to imitate the style of clothing from the collections of Calvin Klein – originals were beyond his pocket. After graduation, Ford moved to new York and began studying art history. Entertainment offered by the big city, were more attractive academic achievements and future designer dropped out of University, and after a while went to Los Angeles, where he starred in television commercials, and even then he liked the creative process of filming. Back in new York, Tom Ford began to study architecture, and during the study had a practice in Paris, in the company of Chloe. Since that time, and had a strong relationship Ford with the world of fashion, which still persist. The policy of the University gave him the opportunity to continue education on a speciality, more appropriate, interests, and Tom Ford in 1986 graduated from the architectural faculty already making plans for future work in the fashion world.
Due to lack of experience in the fashion industry looking for a job at first were difficult. After several unsuccessful attempts Tom Ford persuaded designer Cathy Hardwick meet him personally – he had to call her several times within a few days. On interview he named among their favorite brands of Chanel and Armani – clothing and accessories which were that day at Cathy Hardwick, and got the job.
After several years in the early 90s, Tom Ford went to Europe, where he signed a contract with Gucci. Already then the company understood that something must be changed, and new designer was necessary as a source of fresh ideas. Despite the relatively small experience, to Tom Ford managed to create clothes that perfectly go sexuality, glamour and style – thanks to permanent customers of the company of some celebrities, sales began to grow gradually, and the Ford in 1994 became a creative Director. For Gucci Tom Ford was the right person at the right time, if not to say simply – the Savior. Before his arrival, the company is rapidly losing profit. The new creative Director for only half a year has increased the income Gucci more than 80%, creating a series of fresh collections received more than fifteen awards for achievements in the field of fashion, and highly raising the bar for potential competitors. This post he held until 2004, when he had to leave the company due to creative differences.
Already in 2005, Tom Ford has created its own brand, which first became famous quickly won popularity sun glasses and then – other accessories and clothing. In addition to the famous women, its customers are such stars male johnny Depp, Tom Hanks, Bradley Cooper, pierce Brosnan, Daniel Craig.
Secret of success
The success of Tom Ford's difficult to name the simple luck. Still occupying the post of creative Director of Gucci, he often worked eighteen hours a day, and always kept next to the bed Notepad and pen in case new ideas will come in the night. The same diligence he showed, working on creation of the own brand, and while making his film debut. Some people have raised the question, as a fashion designer can become a Director, but the Tom Ford didn't ask any questions – he simply did not dropping the bar, and thus demonstrating that its success is limited only by the power of his imagination.
Today the assumption that once a company Tom Ford will make a serious competition Gucci, there are few who seem unrealistic – it seems he is wanted, and everything will work out. Not less, you can easily imagine Tom Ford's owner Oscar or other prestigious awards in the field of cinema. And maybe he will begin to reveal their talents with other areas – in the end, it just 51, and everything needed to implement any plan he has.