Wedding dresses for larger women in modern catalogues and online shops are not lack of designs. The bride of any size can choose for the most important day in your life a beautiful dress that meets all the trends of the current season. Of course, we should not forget about the need to camouflage figure flaws, feminine forms that must be presented in the best light, instead of doing the bride bulky, feel uncomfortable and generating complexes. To choose the right wedding dress for girl plus size, you need to follow the rules common to all large size ladies.
Displace the accents
Wedding dress will be captured in the mass of photos, so every bride, even if she doesn't have many complexes about their weight, I would like them to stay beautiful, stylish, and preferably not too large. If to lose weight before the wedding failed, selecting a wedding dress with all of the features of shape, will be the salvation for women. Before buying you need to objectively assess your form and decide what cut, color, decor can be considered, and what should be abandoned.
Avoid dresses-bustier, from major elements on the shoulders, shiny bodice, jackets and capes made of thick fabric. The top of the wedding outfit must delicately frame the figure, but not completely close it and not to attract too much attention. You will help M-shaped neckline, sleeves made of light translucent fabric, chiffon, tulle, delicate lace netting. Choose a dress with beautiful attractive skirt – hi-lo, multi-tiered, with a train, with ruffles, asymmetrical draping directions.
Big belly (figure "Apple")
For brides with such a figure, as a rule, worthy to pick up beautiful wedding dress is the most difficult, but anything is possible. Please note dresses with high waist, belted under the breast, Greek style with a light tulle skirt, And a trapezoidal silhouette or silhouette, if you choose a short dress to the knee. Skirt from the waist needs to disperse evenly, going into a loop or into the floor, and for short dresses be sure to pick up a beautiful pair of heels, standing on which you tighten your stomach and straighten your back.
Wide hips and massive buttocks
It is worth to abandon dresses-mermaid that emphasize the hips, obliga them, tapering downwards. Dress must be with A-shaped skirt. If you have a pronounced waist, focus on it, if the waist is too wide, you can choose the belt under the chest and radiating evenly to the floor skirt. Women with a figure of a pear is better to stay on the dresses with uniform design skirt, refusing patterns with ruffles, ruffles, tiered skirts, which additionally increases the lower body.
The most popular models of wedding dresses for full
Dress bustier with lace Cape
Women large forms is not always necessary to abandon wedding dresses patterns-bustiers, which are incredibly sought after designers. To make the upper body more accurate, choose the sleek bodice without massive elements of design and sparkle, and the top look easy lace poncho that gracefully cover your shoulders, and you will feel yourself more confident.
Draped, slouchy, drop-down fabric give great opportunities for hiding figure flaws, which can easily adapt to wedding design. You can choose dress with a slouchy waist, with a gently draped neckline and bodice. To give the wedding dress design fashion asymmetry, designers draw a thin barely noticeable even draperies slim silhouette of the dress.
Wedding dresses with one shoulder – the ability to visually reduce the width of the shoulders and at the same time fit the image of the most fashionable bride. Dresses with straps are well-suited to girls with big Breasts, they partially cover the neckline, but to design full the bride looked stylish, the bodice should be no extraneous elements, with the dress it is advisable to choose a fitted silhouette.
Dresses in the Greek style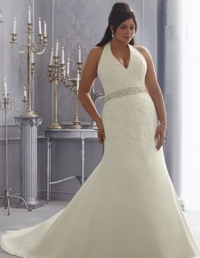 Greek style combines elegance, femininity, authenticity and the ability to mask figure flaws, highlighting these qualities. Big hands you can easily hide behind the sleeve "bat", stretched silhouette with V-neck, choosing a style of ancient Greek tunics to dresses. A big belly can easily hide using a high waist, and wide hips will not attract attention, hidden under the lightest tulle skirt.
Dresses with lace sleeves
Wedding dresses with long sleeves were once a rarity in fashion catalogs, but now it is not the first hot trend, which should be used for good. Full women to the wedding it is better to choose not fully closed sleeves and the sleeves are elbow length or ¾ length from lace fabric. On the one hand, they close their hands if they look unaesthetic, but it's also feminine and stylish trends that always come in handy for holiday dress, especially for wedding. With lace sleeves you'd better give up the decorations on the neck, so as not to overload the image.