The tradition of wedding attire live and prosper in spite of gradual refusal from the canons of this celebration in the classical sense. Wedding dress «Haut couture» – is not just a beautiful dress for the day of registration or stylish photos for the family album. This is a real art, embodied in the part, which is not comparable with the others that do not belong to this noble family. The choice of this dress is not the desire to demonstrate their financial capabilities, and the way to touch the fine and let the others to observe the rustle of silk, organza and inaudible breath tulle over whom manually employed a lot of professionals.
The new height of wedding fashion
«Haute couture» or Haute Couture is a high fashion created by hand by craftsmen work the world's leading houses. In contrast to the «ready-made» or pret-a-porter, which can be purchased in a name boutiques, haute couture – is the embodiment of genuine art sewing skill, models which are made by preliminary order. The bride, who can afford not to save money on your wedding dress, often choose not clothes are exhibited in showcases of wedding fashion, namely «Haute couture».
Elie Saab
The dresses belonging to high fashion not only makes the bride confidence in its uniqueness, it allows to feel like a Princess or Queen of your own holiday, the comfort which was made by the leading masters of sewing art from the world's largest designer brands. These wedding dresses outwardly may differ from the standardized models with their splendor, dazzling luxury decoration, pomp, skirts and richness of decoration of the bodice. But one should not believe that high fashion wedding aimed to works of visual effect, which does not correlate with comfort. These dresses can perfectly combine external glamour and comfort. This is the whole point handmade – everything must be this way this is the wish of the client.
Distinctive features of wedding dresses Haute couture
High fashion does not save on luxury of the materials from which is made dress, therefore, in deciding to acquire the couture dress, the bride can be sure that it is made from the finest fabrics. The most popular are the natural silk, organza, taffeta and other textiles stunning beauty and physical properties, which are not just encase figure, and emphasizes all of its dignity.
Carolina Herrera
Vera Wang
Attention to detail, including the smallest beads, crystals in the amount of thousand units which are hand sewn to the bodice and skirt, subtlest lace finishing feathers, and this is what is peculiar to the skill of haute couture and unimaginable for «ready-made». More precisely, pret-and-port too, all that exists, but these details are not the result of the long hours of labor, which makes the quality wedding dress from Haute couture, both in General and in detail, impeccable.
Wedding dress «Haut couture» may be a classic cut, but in addition, there is another direction in which the outfit turns into a celebration of sewing skill, which is trying to repeat architectural forms, futuristic motives, the original layer and combinations. In these luxurious textiles elegant forms is beyond the control of someone's imagination avant-garde forms, magnificent floral combination, medieval line and traditional dress Princess silhouettes with a hard cut frame skirts-cake or original bodice with jewelry embroidery. Wedding dress «Haut couture» can be inconvenient, but this feature of the bride easily stand for the sake of effect, which they produce.
Zuhair Murad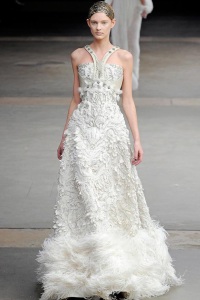 Alexander McQueen
Brand of wedding dresses Haute couture
The wedding dress «Haut couture» produces a relatively small number of brands. To find a beautiful dress unique design manual work can in couture lines brands Allure, Zuhair Murad, Tony Ward, Sarah Seven, Pronovias, Jesus Peiro, Carolina Herrera, Elie Saab, Christian Dior, Vera Wang, Alex Perry, Alexander McQueen.